still lifes
GERD RENSHOF
magic-realism
At the tender age of eleven Gerd Renshof visited the Amsterdam Rijksmuseum on his own. Obviously he was much impressed by all paintings on those augur walls, but one especially stood out for him. Time and again he returned to a picture by Jan Lievens, a colleague of Rembrandt. It's subject; large old volumes, a bread roll and a tin can. As an adult Renshof started to collect old bindings, and of course painted them.
There have always been paintings showing books, but they are few and far between. Oddly so, considering the importance of books for the development of our culture and society.
Most pictures that feature books at all are of a person, the book being little more than a prop. There are pictures of libraries, and still lifes where a book is but one of many items. A still life portraying books is a rarity. The most notable painters to use books as a subject are   Sebastian Stosskopf   (1597 – 1657)  and Jan Davidsz. De Heem (1606 – 1683) and of course the portrait in books from Giuseppe Arcimboldo (1527-1593).
In more recent times the American artist William M. Hartnett (1848-1892) painted books, though it's trompe l'œil what he is known for. In contemporary realism the book isn't featured very often. Again, most painters of still lifes will use a book occasionally, but rarely as their main subject. The Dutch painter Henk Helmantel provides some of the proverbial exceptions, as does the British watercolourist Jonathan Wolstenholme, who shares with us his surprising and humorous way of looking at books. For Sandra Walker, also from England and also a watercolourist, books are her second subject, after architecture. Victoria Reichelt, from Australia, paints contemporary books in a beautifull, very realistic way.
Specializing in old bindings, painted in oils, with a production of 109 paintings, Gerd Renshof proves to be unique.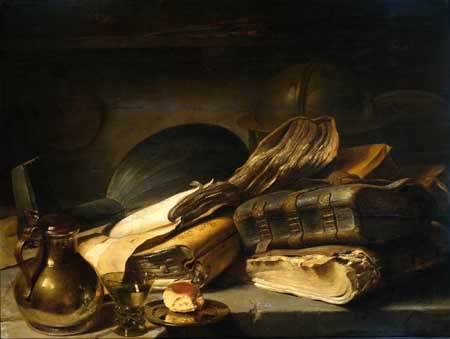 Jan Lievens   1607 – 1674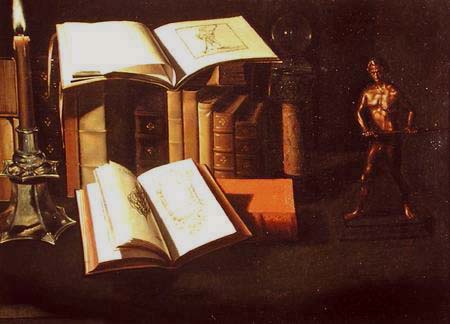 Sebastian Stosskopf   1597 – 1657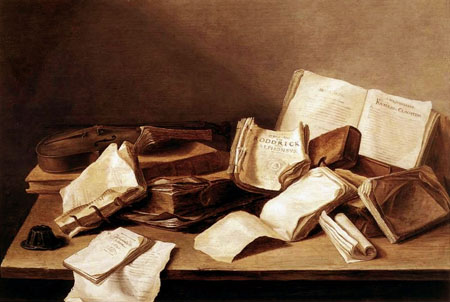 Jan Davidsz. de Heem    1606 – 1683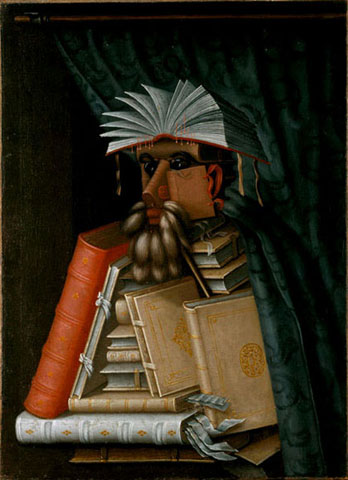 Guiseppe Arcimboldo   1527 – 1593: The Librarian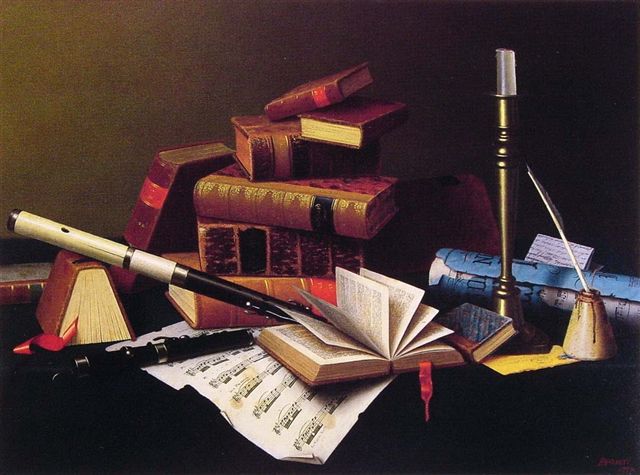 William Hartnett   1848 – 1892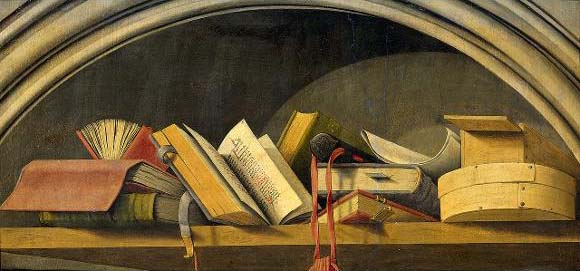 Master of the annuciatie of Aix   1425 – 1450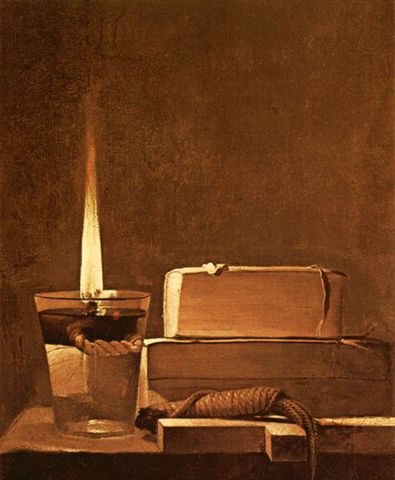 George de la Tour    1593 – 1652 : detail of Maria Magdalena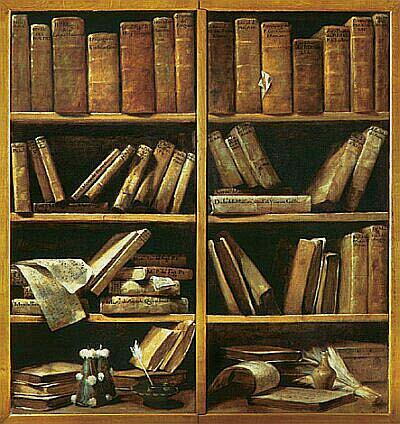 Guiseppe Arcimboldo   1527 – 1593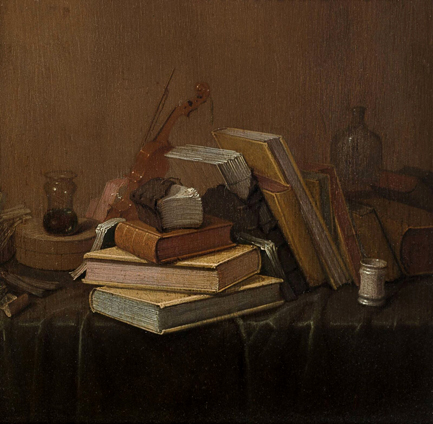 Gerrit van Vucht   1610 – 1697